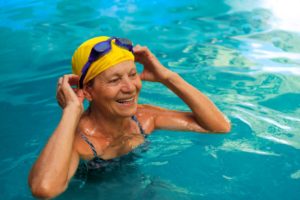 Whether you suffer from urinary or bowel incontinence, swimming with incontinence is not out of the question. There are products that can help.
Myths About Swimming with Incontinence
There are a few myths about swimming with incontinence that you may have heard.
Only seniors need to worry about swimming with incontinence. While you may find that some swimming products for seniors protect from incontinence, people of any age can suffer from incontinence.
It is illegal to swim with incontinence: While public pools require adults to wear appropriate swimwear to contain accidents, it is not illegal to swim with incontinence.  You should follow whatever posted rules there are for the pool.
Swimming with incontinence is dangerous: As long as you wear appropriate swimwear to contain accidents, there is no evidence that swimming with bowel or urinary incontinence is dangerous.
Pools have a chemical to change urine color so that everyone will know: This myth may have started to discourage children from urinating in the pools. There is no chemical in pools to change the color of urine.
Peeing in the pool is perfectly ok:  It is not safe to urinate in the pool, and doing so can put yourself and others at risk for several health issues.
You can use a standard adult diaper for swimming: Because traditional adult diapers absorb water, they are not suitable for swimming. Fortunately, there are plenty of swimwear options for adults with incontinence.
Products to Consider for Swimming
If you are trying to manage incontinence and want to swim safely, you can find several different products to help.
Disposable Swim Diapers
You can wear these diapers under your swimsuit to help control incontinence-associated accidents. Swimming diapers will keep the water and your bathing suit clean during your swim without absorbing water and swelling like a standard adult diaper.
You can find swim diapers with leg cuffs to help contain bowel incontinence. After you are done swimming, throw the diaper away. The downside, of course, is that you need a new diaper every time you go for a swim.
Reusable Swim Diapers
Like their disposable counterparts, reusable swim diapers contain leakage from incontinence without absorbing water. These diapers are discrete, and you can wear them under your swimsuit.
You can find reusable swim diapers in various sizes and shapes and reuse them as needed- though you do need to clean them between swimming sessions. Some reusable diapers seal around the thigh to prevent leaks associated with bowel incontinence, while others do not.
Incontinence Swimwear
The swimwear usually includes briefs or shorts at the bottom. The swimwear is absorbent and helps protect against bowel or urinary incontinence. You can find incontinence swimwear in several different colors and styles. You should check the label to see whether a specific swimwear item is for urinary incontinence, bowel incontinence, or both.
Whether shopping for incontinence products for yourself or a loved one, shop Simply Medical today!