The Motivo Tour empowers people who need mobility assistance to live their lives the way they want to. By looking at design and development differently, the Motivo team reinvented the basic walker into something much more extraordinary and effective compared to traditional devices. This is the story behind the American-made invention. 
The Inspiration for the Invention
The idea behind the Motivo Tour came from personal experience. Both Motivo founders, Jeremy Knopow and Jennifer Harris, had a parent who needed to use a mobility device. Each of their parents experienced a traditional walker not only being challenging to use but also embarrassing.
This inspired Jeremy and Jennifer to use their 40+ combined years of product design experience to completely reinvent the mobility device category. Their mission was to build a product that focused just as much on improving a person's everyday life as it did on their medical condition. In Jeremy's words, "We wanted to create a product that adds to people's sense of pride and dignity versus subtracts from it."
A People-First Product Design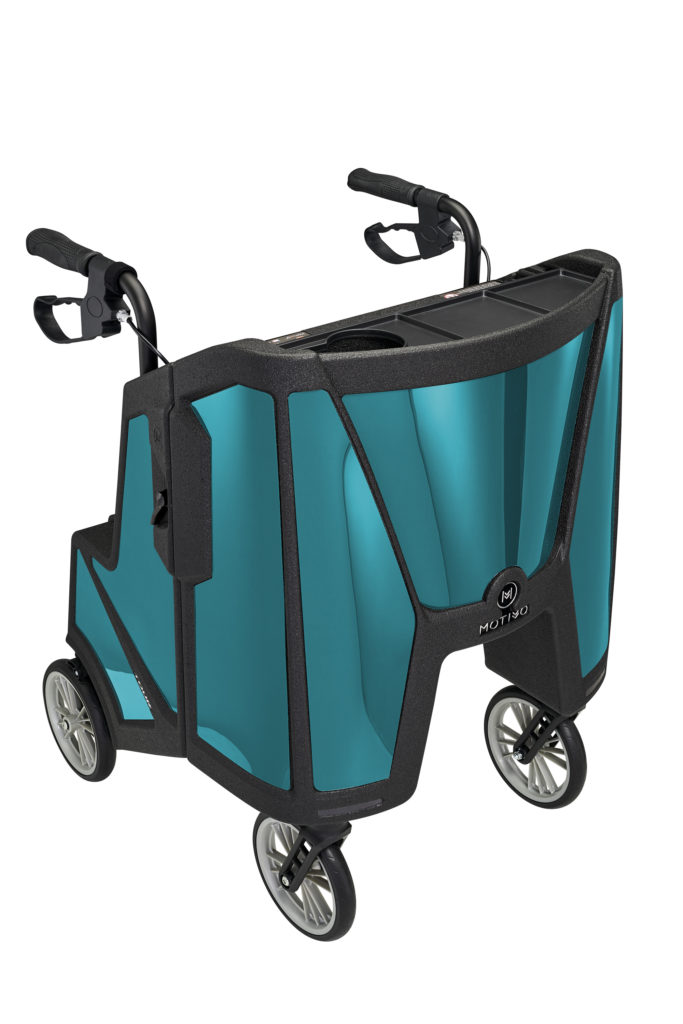 Since their motivation was to improve people's lives, Jeremy and Jennifer started their design journey by talking to people who used mobility devices. They spent hundreds of hours interviewing people to truly understand what their needs were and to see mobility from the personal perspective of someone who uses a walker. 
Every person has a unique medical need requiring mobility assistance. To ensure the Motivo Tour significantly improved in meeting these health care needs, the team also studied the most up-to-date information from medical journals worked closely with physical therapists and doctors, and collaborated with a board-certified spinal surgeon to review the product's medical benefits. 
The insights gained from this comprehensive approach were invaluable. After countless prototypes, three years of research and development, and 300 hours of user testing, the profound people-first design of the Motivo Tour was introduced. 
Rigorously Tested to Stand the Test of Time
With a design unlike any other mobility device, the Motivo team developed a rigorous testing process to ensure the product stands up to all the demands its users encounter in everyday life. In fact, the team even built its own internal testing facility using stringent ISO standards, in addition to product testing in independent labs. With local testing facilities right down the road from their New Berlin manufacturer, the Motivo team can easily create custom testing scenarios for all the unique features not found on any other mobility device. 
The Tour begins the testing process with maximum load and lifecycle checks, some repeating actions hundreds of thousands of times to simulate how a person will interact with their Motivo Tour over years of use. Other tests are run for cleaning chemical compatibility, surface hardness, scratch resistance, and finish gloss level, to ensure the longevity of the product's one-of-a-kind aesthetics. This arduous and highly demanding testing process helps to make sure every Motivo Tour provides an amazing and reliable experience to the person using it. 
What Makes the Motivo Tour Special
This award-winning, innovative rollator gives you comfort and support while maintaining your dignity and freedom. The sleek design uniquely lets the user walk inside it rather than behind, alleviating the need to hunch over. Walking upright in the Tour helps align the spine and reduces back and neck pressure by up to 60%. Weighing only 18.5 pounds, the walker is compact and easy to transport. It is self-standing, so you don't have to lean it against furniture or a wall when not in use, and it still rolls even when its molded side panels are folded in. 
It is made in the USA and covered by 20+ patents, the Motivo Tour is crafted from a lightweight, yet tough carbon composite inspired by the aerospace and auto racing industries. Its modern, non-medical design provides a stylish look with color options that allow you to make it your own. The Tour's convenient features include an integrated tray that doubles in size when flipped open and two cup holders. A stowaway seat pulls down to expose a full-size backrest and private storage space that you can access without stooping, and loop-style brakes and parking features slow the walker down. The lightweight walker weighs only 18.5 pounds. 
The Tour upright walker is an ideal mobility solution for seniors or those recovering from a surgery or injury. Its life-in-reach technology puts you closer to everyday spaces like sinks and countertops without straining, while a zero-turn radius allows the walker to easily maneuver in tight spaces. The Tour is the same size as a traditional rollator, with a fixed seat height of 18.5 inches, and a handle height adjustment of 31 to 37 inches. When open, the Tour measures 24 inches wide by 32 inches high by 27 inches deep. When folded, it is 24.5 inches wide and 17 inches deep. It has a 300 pounds weight capacity. 
Using Feedback to Improve Future Models
Another benefit of conducting tests beyond industry norms is that it helps identify ways to improve the next generation of Motivo products. But the focus on continuous improvement doesn't stop there. Motivo's customer service team follows up with every customer shortly after purchase and periodically after that. All feedback is logged and considered when considering new model designs or upgrades to existing products. 
The learnings from test results and customer feedback have already resulted in several product upgrades and enhancements, including reduced weight and size, and improved and enlarged convenience features, such as the tray and integrated storage area. 
Regarding this unrelenting focus on continuously improving the Motivo Tour, Jeremy has said, "Motivo is a company founded by product designers, so continually looking for ways to improve the product and ultimately our customers' experience is just part of our DNA." 
To see what else the Motivo tour can do for you, check out Simply Medical.